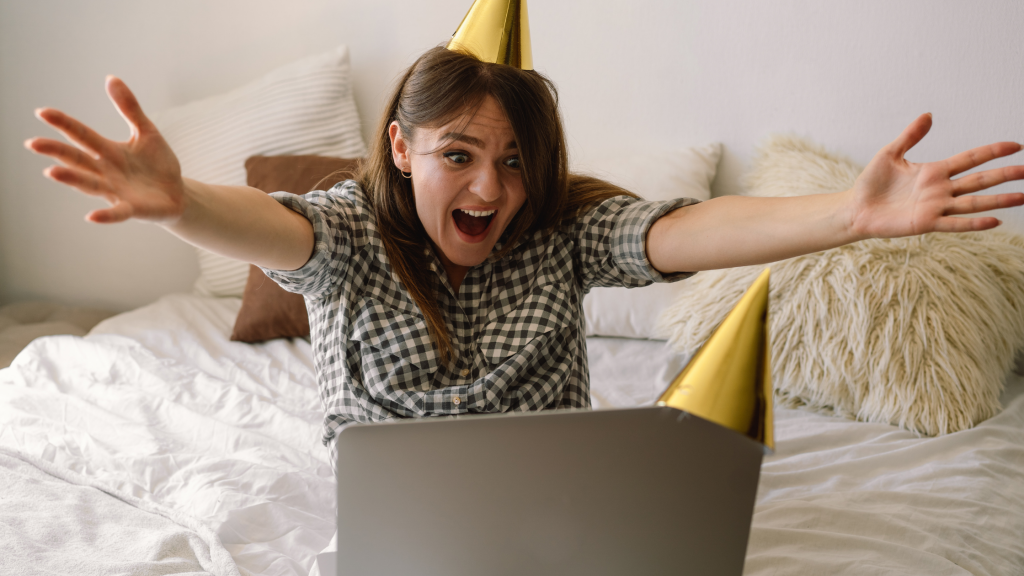 By Connie Podesta, Hall of Fame Speaker
Are you planning on a virtual holiday party to de-humbug a team totally over all the change we've seen this year? I get it. It's been a LOT. Steep learning curves. Stress. Adapting to new technology. Finding new ways to communicate.
How will you give your Zoom from Ho-Hum to Ho-ho-ho?
Bring in entertainment with a message. Here's six solid reasons my clients are adding a little comedy and therapy to their virtual gatherings this holiday:
Laughing is one of the best ways to help people let go. There's so much that people are just ready to put behind them this year, letting loose, enjoying some entertainment, and seeing each other smile is good for their souls – and for your team connection!
Catered to Your Team. My clients give me the inside scoop on what their team is going through, and what they are looking forward to in the year ahead and I customize our time together to incorporate that messaging into our time together in a fun and festive way.
100% Easy. Set up is simple. You bring the audience; I've got it from there! Engagement, energy, and humor will all feel effortless for your leadership team.
The Expertise You Need. As an expert in the psychology of human behavior, I know how to read a room (or a screen), read what people need, and deliver the blend of humor, heart – and a healthy side of psychology that will have your team feeling inspired to create the mental reset necessary to head into the new year filled with hope, promise, and confidence.
Track record. I've been called the "most non-virtual virtual speaker" out there and that makes me so happy. Because I know how happy my clients are when we've helped their team laugh, learn, and lean into change – all while lifting spirits and elevating every chemical in the brain that promotes joy and well-being.
This is a Gift that Keeps Giving. Your team will walk away with way more than belly laughs. I'll deliver stand-out solid strategies for taking their lives to the next level and looking at the year ahead with a whole lot more spring in their step! I'll even leave you with a roadmap for how to take our message and stretch it out through the year.
Ready to have some FUN this season? Give me a call. Let's talk about how we can make your virtual holiday party a whole lot more merry and bright!  
Call me today at (972) 596-5501 or email me at Connie@ConniePodesta.com! I'm ready to help!
After seeing Connie Podesta live in 2018, I knew it was imperative that I bring her knowledge and wit to our member conference. When we pivoted to virtual I was excited  to see her bring her A-game to our community in the virtual sphere. Connie requested to have a front row virtual audience to ensure her session was as engaging and fun as in person.  Great idea! She said she was going to give the most non-virtual, virtual session we ever experienced and she did just that! No PowerPoint or talking head, our community of IT practitioners had a fully interactive, laugh out loud, full of content StandOut experience.  Thank you, Connie! – Christy Rohmer, NYSERNet – Director, Education Services.