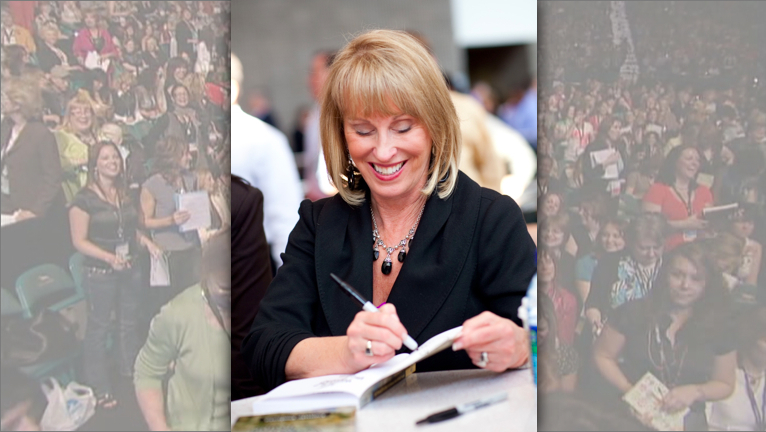 Are you ready to STAND OUT FROM THE CROWD in ways you never imagined before? As a partner, business owner, leader, colleague, salesperson or friend? Are you ready to dig deeper, achieve more, laugh harder, reach further and find more balance in this crazy 24/7 world?
Think Connie Podesta.
Inside the pages of her books and in the words on her CD's are insights, ideas, action steps and literally everything you need to step away from status quo and towards all the good stuff that life has to offer.  Wealth.  Health. Joy.  Better relationships.
Are you're ready for a 
CHANGE
in your life and career? If so, Connie's books and CD set can put you on the path to success! 
Featured Products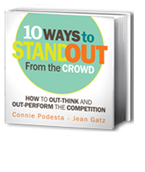 10 Ways to STANDOUT From the Crowd $29.95
Finally!  A business book that isn't boring!  Awarded the Independent Publishers award for "most visually stunning business book", "StandOut" is an artistic delight chock full of real-life success strategies that can propel the reader to new levels of success—both personally and professionally.  TEN condensed books on the TEN hottest topics facing business professionals in today's changing world.  Get ready!  This may be the first business book that you really just can't put down!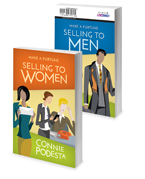 Selling to Women / Selling to Men $19.99
TWO books for the price of one (back-to-back!)  There is no doubt that men and women have very different buying styles.  Knowing how to adapt to each gender's preferences is the key to closing more deals and developing long-lasting customers.  Statistics show that women influence 85% of all purchasing decisions. However, most sales training focuses on selling to men—Selling to Women cuts to the heart of what women want and need during the buying process.  Selling to Men is only three pages long!  (Selling to Women is 180 pages—Ha!) Men are much less complex—do these ten things and the deal is guaranteed to close!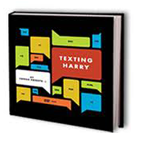 Texting Harry $24.99
A true story of courage, change and life's possibilities.  Tired and overwhelmed, Harry boarded a flight to Dallas from Boston.  He had lost his creative spirit, excitement for new ideas, and passion for adventure. He was ready to give up.   Then…he sat down next to Connie. And his life was about to change.  The transformation Harry makes in the next few hours is heartwarming and amazing. This is a story that will warm your heart and bring a tear to your eye.  We all know someone like Harry—someone who just needs a reminder that we are never too old to get back on track and experience everything life has to offer. This is a must-read.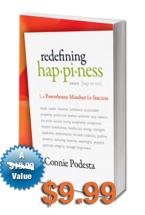 Redefining Happiness: A Powerhouse Mindset for Success (eBook Only) $9.99
HAPPINESS is the ultimate goal, right?  Unfortunately, most people say they are working harder and sacrificing more than ever before, yet happiness often eludes them.  So what's the deal?  An expert in the Psychology of Human Behavior, Connie Podesta, has the answers you've been looking for so you can achieve the happiness you deserve.  Bottom line: Everything you've been taught about happiness is backwards.  HAPPINESS is NOT the result of getting what you want; it is the CATALYST that makes getting what you want POSSIBLE.  A compelling read that could change your life!