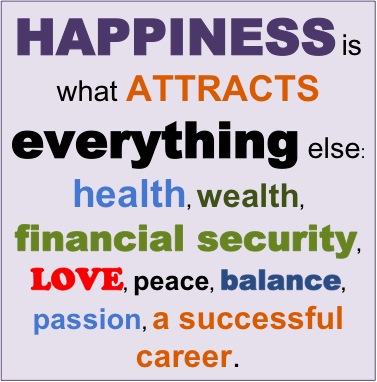 Let me say it straight out. There was a time when I would have never thought in a million years that I would be writing a book on HAPPINESS. Not that I wasn't a happy person. I was (most of the time). And not that I didn't believe HAPPINESS was a cool thing to have. I did. I loved it when it was in my life, missed it when it was wasn't, and did whatever I could to keep it around.
But, truth is? I didn't take it SERIOUSLY.
When asked to give traits that described someone powerful or highly successful, honestly, HAPPINESS would never have come to the top of my list. I just didn't view HAPPINESS as a power word. And I certainly wasn't seeing books on the Bestseller list entitled: How to Create Happy Leaders, or Making Happy Investments Work for You, or Happy Sales Strategies for Success.
Instead I'd think of characteristics such as Honest. Strategic. Committed. Trustworthy. Energetic.
Responsible. Now those are the kind of amazing qualities that just radiate SUCCESS.
But HAPPINESS? Come on. No way was HAPPINESS in the same league with the "big players," right? I mean, happiness was always a great feeling, but just a little too much fluff for the tough, competitive world I was dealing with.
In case you don't know it, I'm an in-your-face kinda girl. Tell-it-like-it-is. No-excuses. Tough-it-out and do-what-it-takes. I considered HAPPINESS as simply an emotion or a feeling that resulted from things I had earned, accumulated, or accomplished. But one day, I realized I had all the things I thought I wanted and still was wondering, "Is this all there is?"
And I knew I was missing something really important.
Then I began to figure it out.
Truth is? I had HAPPINESS TOTALLY BACKWARDS.
HAPPINESS is what ATTRACTS everything else: health, wealth, financial security, love, peace, balance, passion, a successful career.
Want to learn more about why it's important to understand how change affects your life?  Career?  Future?  Click here to read chapter one of my book 10 Ways to Stand Out From the Crowd and follow me online at Facebook or LinkedIn!