Business & Motivational Speaker
2 million+ people worldwide · 1000+ organizations
Every major industry · 25 years' experience
CONTACT CONNIE NOW and let's get to work making your event
AN ABSOLUTE STANDOUT SUCCESS!
 Powerful message without PowerPoint
Entertainment with a purpose
Audience interaction without the silliness
Motivation without the rah-rah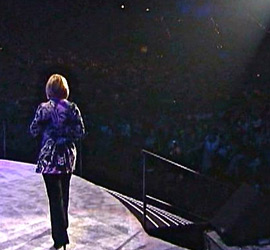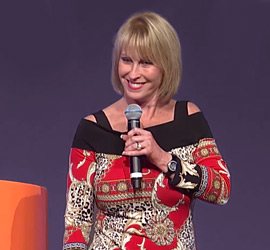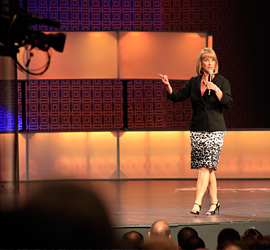 Why Connie's Keynotes Whether Streaming Online or From the Stage Are Unlike Any Other
With Connie, you get a keynote – and a conversation. Connie's delivery style, whether from the stage or virtually -- ensures that every member of your audience will feel seen, heard, and connected.
Connie's mix of psychology and communication skills is exactly what audiences need right now. Perspective, innovation, understanding what makes people tick – have never been more important – especially in a world where "remote" is the new normal.
She's just the right amount of funny, and serious – with messages that share the extraordinary power of adopting change and leaning into resilience – she'll both uplift and teach your attendees as they take on change for all it is worth.
She's a world-class keynote speaker who has moved audiences both from the stage and in virtual platforms to make the shifts necessary to succeed at a higher level, find more joy and balance, decrease stress, and lead in their industries and lives.
Want to learn more? Contact Connie today to talk about your options. Lots of choices! You can pick a topic you like from the list below...or you can mix and match topics and let Connie create a special session just for you!
 Most Requested Keynote Topics
---

StandOut Relationships... Life Would Be Easy If It Weren't For Other People
The Power of Personality and Communication to
Increase Engagement
Life continues to shift in ways we never imagined. People working remotely, virtual meetings taking over, families bridging gaps on zoom… Communication skills have NEVER been more important than now! At work and at home. Connie is your go-to guru for understanding just exactly how this people puzzle works so you can get your message across whether live or from a screen.
Imagine what you could accomplish if you could decode the mystery of human behavior and truly understand what makes people do what they do and say what they say (including yourself!). Research shows that the #1 key to SUCCESS is the ability to get along with other people, personally and professionally.
Bottom line: How you choose to relate to, communicate with, be accountable to, resolve conflict with and garner respect from other people will directly impact your future.  Most importantly, those skills will determine your ability to attract and sustain healthy relationships. And that is the key to a lifetime of success as you lead, manage, sell, produce, collaborate, work as a team, interact with friends and family, and strive to excel as a human being on this planet.
With laugh-out-loud humor, killer take-away strategies and her amazing insights into ourselves and others (including a few who "drive you crazy"), Human Relations expert Connie Podesta will both challenge you and empower you with the knowledge you need to get along better with the people in your life. Connie will take you right inside the minds and personalities of the people you deal with every day — bosses, colleagues, partners, customers, friends, and family so YOU can ACT, rather than REACT to whatever life throws your way. Get ready for less stress and more success!
Learn More About Why Life Would Be Easy If It Weren't For Other People
Keep the message alive long after the event!
Empowered success strategies can be found in these best-selling books!
---

StandOut Sales... Like You've Never Heard It Before!
The Power of Persuasion and Psychology to
Increase Sales
Face-to-face sales has never had so many meanings! Whether nose-to-nose or screen-to-screen using virtual platforms, helping sales professionals adapt, adjust, and adopt change to create higher sales and market share is Connie's superpower!
Connie Podesta, an expert in sales strategies and the psychology of human behavior has helped millions of people take sales to a whole new level…and have more fun while getting there.
Bottom line:  No more excuses. If you believe that PRICE, PRODUCT, MARKETING or TERRITORY are the main reasons for not closing the deal, think again. Customers tell a different story. Connie takes you right smack inside the mind of today's new breed of customer. Bargain-hunting. Demanding. Indecisive. Internet savvy. Overwhelmed with choices. And, very SELECTIVE about WHOM they CHOOSE to do business with.
With her tell-it-like-it-is delivery and laugh-out-loud humor, Connie is ready to help you sell like never before so you can sit back and watch both your business and your bank account grow and GROW!
Voted One of the "Top 41 Motivational Speakers Who Can Energize Any Sales Team" by Resourceful Selling Magazine
Watch What Makes Successful Salespeople
Keep the message alive long after the event!
Empowered success strategies can be found in these best-selling books!
---

StandOut Leadership... Like You've Never Heard it Before!
The Power of Accountability and Ownership to
Increase Performance
Leaders, this is your time to shine. Your teams need you to be both the calm in the storm and set the step-up example they need to succeed. Whether your "office hours" look like powerhouse conference rooms or Zoom rooms, Connie can help you to super-charge your connectivity, collaboration, and team building in energized new ways.
Bottom line: In the real world many employees simply "meet expectations," lack initiative, bring their personal lives to work, stress over every change, and whine about having to WORK… on the job!  Connie says, "Enough!" She has empowered thousands of leaders worldwide with the attitudes, mindsets, and strategies necessary to create teams that are willing, able, and excited to get the job done THE RIGHT WAY!
With her signature blend of comedy and "tell-it-like-it-is" delivery, Connie takes you inside the minds of even your most difficult employees so you can turn negative attitudes into positive, entitlement into accountability, complacency into productivity, complaining into solutions and "that's not my job" into ownership in ANY market condition or economy.
Keep the message alive long after the event!
Empowered success strategies can be found in these best-selling books!
---

StandOut Influence... How To Get People On Board
The Power of Consensus and Negotiation to
Increase Buy-In
Zoom calls. Web cams. Conference lines. How do you create consensus in a world that is constantly changing? Connie's keynote gives you a crash course in psychology and human behavior to give you the tools necessary to help teams work more cohesively and creatively for better bottom-line results!
Bottom line: Getting the job done the right way hinges on your ability to "sell" yourself and your ideas in such a trusting and positive way that people will CHOOSE to: Follow your lead. Cooperate with you. Learn from you. Buy from you. Partner with you. And…support you so you can make things happen!
With a rare blend of laugh-out-loud humor, uncanny insight into human nature and killer persuasive strategies, Human Relations expert Connie Podesta will take you right inside the minds of the people you need to influence and impress.
You will learn how to negotiate differences, influence behaviors, change attitudes, overcome objections, and close the deal so you can create an amazing network of PEOPLE who have one common goal: to willingly help you GET THE JOB DONE NOW!
Watch Everyone Is In Sales: How to Get People on Board
Keep the message alive long after the event!
Empowered success strategies can be found in these best-selling books!
---
StandOut from the Crowd... Out-Perform, Out-Think, Out-Lead, and Out-Sell the Competition
The Power of Performance and Innovation to
Increase Competitive Edge
Change is in your DNA. Innovation, adoption, creativity, and collaboration are not "should haves"; they are "must haves" to succeed. It's scary for a lot of people though. Especially now, when change is happening at lightning speed. Suddenly people need to have tech and communication skills they never dreamed would be a priority for them. Connie helps audiences develop a proactive approach to change, reduce fear and stress, and become innovators for themselves, their organizations, and their families!
Bottom line: Your future success depends on your ability to OUT-SHINE past performance, OUT-THINK old ideas and OUT-MANEUVER anyone who says it can't be done. Simply "meeting expectations" doesn't cut it anymore. YOU and YOUR BRAND have to be so extraordinarily AWESOME, UNIQUE and VITAL that people will CHOOSE to do business with YOU instead of your competitor! Ready?
Meet Human Relations expert Connie Podesta who is both refreshingly candid and wonderfully entertaining. She will definitely bring out your edgy, creative, competitive side as she takes you inside the minds of today's savvy, but super-demanding global market and delivers some killer, powerhouse strategies that will help you increase sales, profits, good will and your customer base. Competition - watch out!
Watch Helping Organizations Blow Away the Competition
Keep the message alive long after the event!
Empowered success strategies can be found in these best-selling books!
---