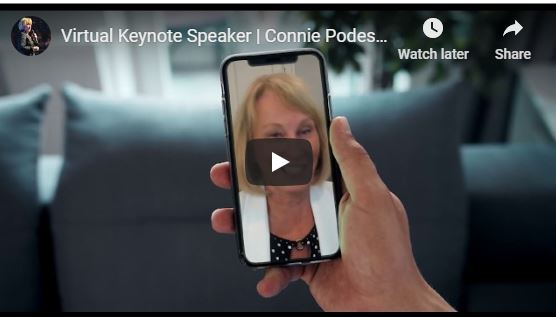 By Hall of Fame Speaker Connie Podesta
Change is tough. Change on a global scale that has literally hit home and business in every conceivable way? Can stop people – teams – and companies in their tracks.
So, how do we get people to lean into their inherent resilience? To get out of fear that is playing in their heads and back to leading, servicing, connecting, selling, and communicating in new and adaptive ways?
We add a little psychology into the mix. We teach them that change is what we do – and do well – as human beings. We gift them with tools and insights and strategies that will help them bound out of bed to start their days rather than pull the covers over their heads and say, "Not today!"
That's where I've come in to help organizations all over the globe. Using a multitude of interactive virtual platforms, I'm able to help all types of teams, from sales to leadership, service to staff — and everyone in between — develop their path forward to help their teams navigate these uncertain times with confidence and strength. I'm able to walk audience members through shifting their mindsets, skill sets, and internal dialogue so they can find their groove again and negotiate and leverage change for all it's worth.
While I completely love and adore commanding a stage in an arena filled with thousands of people – I'm really loving the connection I've been able to make with audiences Zooming in with me for a fun, uplifting, hope-fueling message with a psychology sidekick. And they are loving it right back!
Helping people better understand what makes themselves and other tick – especially during a time of roller coaster change is transformational. They look at life, work, relationships and even chaos – with fresh eyes, better perspective, and renewed skills.
Need a speaker that can elevate a virtual experience, deliver the content people need to hear right now, and spark positive and progressive momentum? I've got you covered. Give me a call today to see how we can develop a topic that is the perfect fit for your next virtual event.
See why clients have said, "For all the right reasons — Connie is the most 'Non-Virtual' Virtual presenter your audience will ever experience!" 
Ready to discover what we can create TOGETHER to ensure an experience that everyone can come away feeling happy, hopeful, and ready to take on anything? Call me. Let's make it happen.