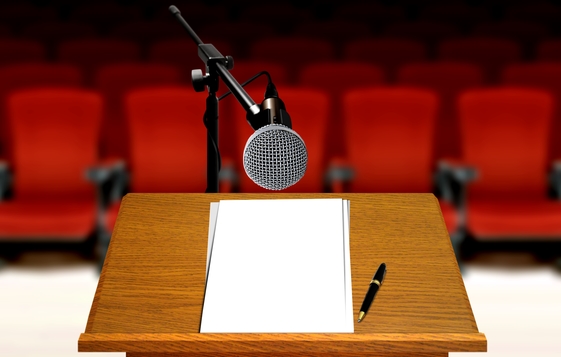 A Just Ask Connie Blog
"Why waste money on outside speakers …" the email began. "What our team really needs is to hear from our own internal leadership team. An outside speaker doesn't even understand our unique business."
Not the first time I've heard those words. My response? Is usually, "Really? Let's dig a little deeper and break those theories down a bit."
First, "Why waste money?" You know, that's a legitimate question and money can be misspent if…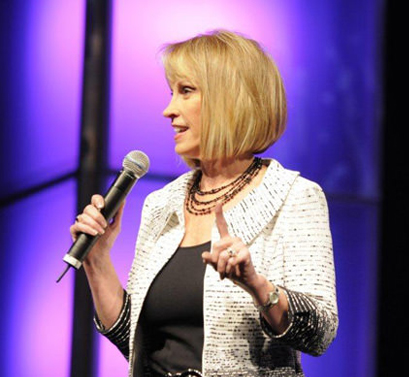 A: You hire the WRONG speaker. You know the drill. It's time to choose a speaker but it's "decision by committee" – and there's zero consensus. So what's a group to do, right? Usually – hire the one that is so generic, so middle-of-the-road that he or she becomes the "happy median" – regardless of topic, experience, or delivery style. Or someone picks a speaker at random whose strengths don't come anywhere near matching the conference goals. Or someone proposes their third cousin once removed is a speaker and they can get them for next to nothing. Or … they bring in a speaker to share what leadership THINKS their team needs to hear, but not ACTUALLY what the team needs to learn. In any of those scenarios – you'd be absolutely right to say it's a waste of money.
B: The budget was not in line at all with the desired results.This is a pretty common occurrence. When clients want an AMAZING speaker for their "unique" audience. They want experience that translates into killer strategies. Credentials that create trust and respect. Education that generates innovative ideas. And a delivery style that can capture an overworked, a bit cynical and sleepy audience right after a delightfully high-carb banquet lunch. They want it all. Substance. Style. Personality. Engagement. The only problem? Their budget only covers the fee for an emerging speaker. Or an intellectual with no delivery. Or a humorist with no content. So? They settle. Instead of matching the budget to the desired speaker they match the speaker to a budget that will never get them what they want. And that too, would be a waste of not only money but time. Energy. And value.
Solution: Hire the RIGHT speaker and that decision can easily triple your investment.
Next theory? "Here's what our people really need to hear…"
Seriously? I've been doing this for more than 30 years, and I can share with you for a fact that most audiences? Didn't have a say about what they wanted to learn. Unfortunately, too often that decision was made by business leaders or event planners who made that topic decision based more on what they THOUGHT the audience needed rather than what their teams were honestly actually struggling with or what would truly move them to action. There's a big disconnect, and that does your event a big disservice.
Solution. Audiences are starving for information. Tips. Techniques. Strategies. Ideas on how to get the job done without losing their marbles. Or losing touch with their private lives. Or living out of balance. The truly professional speakers? Spend their lives perfecting their ability to share information in powerful ways that help teams not only grasp new ideas but understand how to put those ideas into action in their lives and work.
Then there's … "They need to hear from our senior leaders."
Totally true. Teams do need to hear from their leaders – but not once or twice a year at a conference or meeting. If the business is transparent and healthy, then great leaders aren't waiting for a grandstand or podium microphone to connect with their people – they're in the trenches. They're speaking to them constantly with assertive communication. They're connected. Honestly? When leaders are that effectively involved with their teams and organization – short of a brief "state of the union", "can't wait to show you our latest product", or " this company would be nothing without you all" – there shouldn't be a lot left they have to say. Then the smart thing to do is to turn it over to others who can speak on topics that teams REALLY need to hear – and dig deep about what's holding people back. And there's one more thing to think about: my research shows that just as kids often listen to other adults more than their own parents? Teams usually listen to an outside "expert" even more than their own leadership team. Why? Because they don't believe the outside speaker has a hidden agenda. Or skin in the game. Or tune out because they assume it's nothing they haven't heard a hundred times.
And lastly – "Outside speakers don't really understand our business."
My reaction? And that's a problem why? The fact is that's probably the best reason ever to hire an "outside" professional speaker. First, don't assume they don't get your business. The good ones? The amazing one? They absolutely do. Because the truth is, businesses have tons in common, even in totally different industries. Do they understand every little nuance? Buzz word? History? Or power struggle? Nope. But that's OK. Because what you REALLY should want is fresh perspective. Insightful ideas gleaned from outside the walls, parameters and experiences that your team is already well versed in so that you can learn new ways of looking at your business. New solutions for problems. Innovative ideas for growth. New tools to create incredible connections. Reach outside your walls for those speakers who bring amazing repertoires of best practice strategies from all over the world with them into your conference. The ones who can, through their message, validate your company's visions and goals – and expand on them. That? Is worth its weight in gold.
Solution: Weigh it out. Consider that many times that "inside" speaker might be all right for helping maintain the status quo – but will he or she help you grow? Or do you need an "outside" speaker who can deliver a next-level message to your team? Fuel your company with a renewed sense of purpose and energy? Create a desire to be more collaborative and creative? Give people the positive push, tools, and strategies they need to take momentum-fueling action long after the event is over?
Still on the fence? Call me. I've been at this a long time and have worked with the best of the best of the best leaders and organizations in the world. When what you really want is to make an impact not just for a day but for the duration of your company and in the lives of your team? Then what you want is a speaker who can deliver what it takes to do that. With humor. Straight talk. Real take-to-the-bank content. And the skills and experience to reach every member of your audience. I'm happy to share how.