And Why This Book May Be NOT What You Expected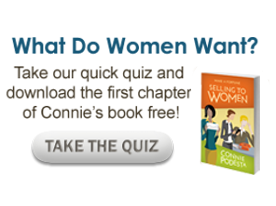 by Motivational Keynote Speaker and Author Connie Podesta
The truth is – times have CHANGED.  And smart, savvy salespeople are willing to make changes too in order to grow their business and keep their clients happy.  That's one of the reasons I wrote the book How to Make a Fortune Selling to Women.  One thing that has become crystal clear in recent years is that statistics show that women influence 85% of all purchasing decisions. However, most sales training focuses on selling to men. So I was asked by audience  members and clients to come up with a 'field guide' if you will of how to connect with and better understand what it is that women want and need during the buying process.  The results it gets is proof that psychology really can teach what training can't.
Oh and here's the funny thing – I made it two books in one!  Selling to Women is 180 pages long — the flip side of the book?  Selling to Men is only three pages long!  Don't get offended – the reason is easy! Men are much less complex—do these ten things and the deal is guaranteed to close!
I even have a cool quiz you can take to see how good your skills are!  Click here to start!
It's a book I loved writing, but more than that – it's a book that is changing things up in a powerfully positive way for a lot of salespeople. And that's what it's all about!  Click here to learn more about How to Make a Fortune Selling to Woman today!
Here's a quick video on the topic! 

I'd love to hear your thoughts!  Post your comments below or on my Facebook page!