Pssst…I'm going to share with you a little "inside secret."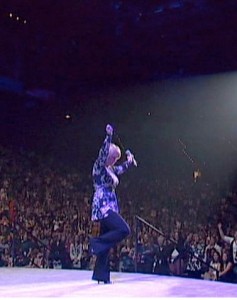 "Motivational?"  Wasn't always my thing.  Look, I LOVE what I do – I mean REALLY love it.  Getting people fired up and eager to embrace and adopt change in their lives.  Watching those "light bulbs" go off when I've said just the right thing to get them off of the fence and into an action plan that can change the course of their career or even their life.  That's good stuff – right?
But I fought the "motivational" part of it. For a long time. In my mind if you were a "motivational speaker" that meant you were a rah-rah, hands-waving, dream-your-dream kind of presenter.  (That's SO not me!)  Then I realized that true motivation (like speakers) comes in all shapes, sizes and delivery styles…and frankly, there are a lot of people who need a lift right now.
So here's what I was thinking.  If you're like most people I know you're hit with at least one "drama" a week by people you know who are hurting, in trouble, worried, in financial distress, in career crisis, in panic mode.  Maybe they find you at the office, at home, on the phone, at the PTA meeting, in the grocery store – wherever.  And you can feel that they're looking to YOU to lift their spirits, make them laugh, lighten the load a little – or just LISTEN.    They're looking to you for motivation, just like people look to me.
So here's my piece of advice for the week.  People need more than RAH RAH today.  They need acknowledgement and genuine compassion.  They need to feel not alone in their uphill battle. They need to laugh.  And they need solutions.  (And truthfully, many need to turn off the TV, because if network news isn't a big 'Debbie Downer' these days I don't know what is.)  I believe in staying informed, but good grief!
Anything you can do to help supply an answer to those needs is a good thing.  And remember (and remind) that we live in a tremendous age to learn, to expand our thinking, to reach beyond the scope of what's happening right now.  At any given minute of the day you can go online and seek inspired thought, learn a new skill, ask advice, network with like-minded people, listen to the voices of masters and download life and career changing information.  And I'll bet you anything that right there in your area there are groups of every denomination, culture, career path and age group meeting to empower themselves, to connect with other people, to find new opportunities, open new doors – and even open a few windows while they're at it.  No one needs to go it alone anymore – there are far too many people out there in the same boat – just waiting to give you an oar and a map!
Make sure you're taking care of YOU too.  Sometimes we get so caught up in other people's woes that it can drag us right into the mire with them.  Make sure you're fueling your own mind, spirit and body with the "right stuff" to keep moving forward.
Sound like a plan? Thanks for letting me spill the beans about me.  A "motivational speaker" with a penchant for substance and a passion for moving people out of ruts and into the life they want and need.  No pom-poms required.
We're all in this thing together, so let's do what we can to help one another.  To that end – be sure to come back soon.  I'm going to be posting excerpts from my Life Would Be Easy book because in today's world — people seriously need to know what makes other people tick. For that matter they need to better understand what makes themselves tick. That way they can make better decisions, navigate new boundaries and work smarter. Can't wait to suit you up with some psychological mad skills.
Remember – If you need me – I'm here.  Post a message and I'll answer – or visit me every day at www.facebook.com/connie.speaks.  See you soon!