The Difference Between a Calling, a Career, and "Just a Job"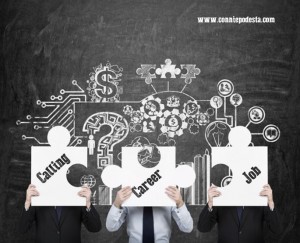 By Business Motivational Keynote Speaker and Human Behavior expert Connie Podesta
After speaking to and interviewing thousands of people throughout my career, it became very apparent to me that individuals basically approach their life's work in one of three ways.  Take a peek at each three descriptions and see which one DESCRIBES YOU the best.
A Calling. Do you have an absolute innate gift for what you do?  You know – where you have that feeling that you were born to do whatever it is you do.  Selling.  Teaching.  Planning. Building. Technology.  Organizing.  Leading.  Designing.  Caregiving.   It is not even so much about the specific product or service involved but the skill or talent that you bring to the task at hand.  Take me for example.  I ALWAYS KNEW I wanted to speak—but it came in different forms throughout my life.  I've counseled.  Taught.  Coached.  Managed. Performed.
And now I am a Professional Speaker.  No matter the venue I found a way to integrate my "calling" into my job description.  Which made each job feel like it was meant for me!
Good news: If the term CALLING fits you then you are totally self-motivated. Awards, praise, even money does not incentivize you as much as your inner voice that drives you to do the very BEST you can in most given situations.  You are your own critic.  Boss.  Coach.  Cheerleader.  Disciplinarian.  You are not satisfied unless you are at the top of your profession. You rarely feel trapped at work because you can envision your talents in many places.  You often become entrepreneurs so you can make the rules and be your own boss.
A Career.  You understand, and for the most part accept, that your job has to be more than "just a job".  You want to move ahead.  Make more money.  Be promoted.  Achieve success.  However, you have not yet figured out how to integrate what you love, were born to do, or have a passion for into this job.  As a result, work is not as satisfying.  Rewarding. Or fun.  Training will be boring. Time will go slowly.  You will need a lot of outside motivation, recognition and praise to feel satisfied.   You may even feel trapped because you've put so much into a job that you don't truly LOVE that you can't imagine leaving at this point.   I've had a career before.  I was working hard but had not realized how much I needed to tap into my innate talents and integrate them into my job.  All I knew was I wasn't happy.  I woke up each morning thinking "there's got to be more than this!"  And there was.  When I finally realized that the only way I could turn this around was to figure out how to integrate my innate gift of speaking, coaching and mentoring into my profession, I started offering to mentor new employees.  Coach new students.  Lead teams.  Facilitate meetings.  Slowly I began to LOVE my job!  The job didn't change but my efforts to integrate my innate talents changed my attitude about it.
A Job.  Ugh!  What's worse than having "just a job"?  Where the absolute only reward is a PAYCHECK?  Don't get me wrong.  Money is important to all of us—to pay the bills, educate our kids, afford time to enjoy a personal life.  However, when that is the ONLY motivation 8, or, 9 or 10 hours of work a day can seems like an eternity.  If you are in this category – and we have all been at some time or another—the incentive to deliver more, learn more, or be more is gone.  And this is where attitude comes into play.  There are times in my life where "a job" was all I could get and I desperately needed the money.  But..I never stopped looking for how I could make it better.  Not just for the company or the customer—but FOR ME!  Most of us cannot survive "just a job" without feeling needed.  Smart.  Engaged.  Or necessary.  The first step is to look for rewards you can enjoy other than just money.  And that involves doing something MORE than the job requires.  Too often when someone is doing "just a job" they give up trying.  Stop being pro-active.  Helpful.  Efficient.  But then complain because they are not appreciated.  Recognized.  Or rewarded.  You know what? You can't have it both ways. If you do as little as possible to keep the paycheck coming it will catch up with you—and before long the paycheck and YOU will be gone.
So where do you fit?  What feels closest to your situation?  Here's my two cents for each and every one of you.  If you have a calling – congrats!  You're exactly where you want to be, so keep appreciating that fact and continue to grow.  If you are in a career, then that's good too – just keep working on finding ways to integrate and use your innate talents and skills into you job.  Let you company know what you can do well so they can keep you in mind when opportunities arise to use you in different ways.  Surround yourself with people at the top of your field, learn from them, get inspired by them, and keep your energy levels high.  And for those of you who are just in a job – then maybe it's a good time for you to take a look at what you DO love, what your innate strengths and passions are, and create a plan for how to start using those skills to make your job more than just a job.  Life's too short to work all day at something that you don't like. Something that just doesn't suit you at all.  In our world there are a million and one opportunities for change – we just have to go after them.
Here's quick video I did on this topic…

I'd love to know where you fit – comment below or join me on my Facebook page!  I wish you every success and hope that you can all find something that you can't wait to do every day!