A Leader-to-Leader Thought for the Day
By Business Leadership Keynote Speaker Connie Podesta
As leaders, we are aware that our employees will produce more. Sell more. Lead better. Collaborate easier. Increase production. And attract more customers when they are being positively supported, engaged, respected and encouraged. In other words, the better we are at creating and sustaining a healthy environment for our team, the healthier, happier, and more productive they will be.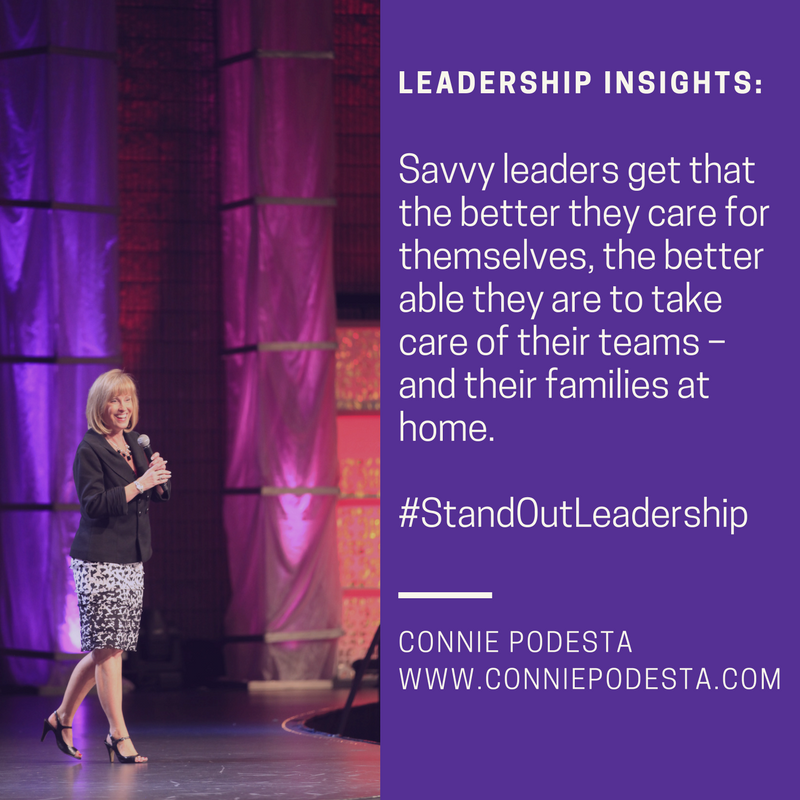 What we often forget, however, is that a healthy work/home environment always starts with a healthy leader/parent/partner. Bottom line:  If you want more success, you must be willing to step back and take a hard look within yourself. Unpack this person you call self and take an objective personal survey of your own health. Physical. Emotional. And mental.
Um, that's getting a little personal, right? Perhaps even a bit scary. As a leader? You've got tons on your plate. Crisis looming around the corner. Competition bearing down. Little time to sleep. Or eat healthily. Take a break. Walk the block. You are in charge, right? And being in charge means putting yourself last. Some of you have even convinced yourselves that after this next meeting, quota, sales goal, quarter-end, or audit — you will definitely slow down. Bite into an apple. Take a little nap. Or go for a long ride with the top down. But most of you? Won't make that day happen.
Here's the truth: The best of the best of the best leaders? They get that if they're not healthy–nobody's healthy. Or productive. Or engaged. Or able to handle adversity and tough times. Leaders set the tone and the direction. So – honesty time. Where do you stand?
Physical health. No denying it … Leadership is tough. Stressful. Time-consuming. There are hard decisions to make and long hours of people depending on you. That means … you can't afford to do anything that compromises your physical health. It's up to you to be in shape so you can lead effectively and strategically.
Here are four quick tips to kick off the take-care-of-yourself leadership plan:

Quit eating junk. Fast food. Soda. Sugar. Processed food. Why?  They make you irritable. Tired. Impatient. Lethargic. Quick to anger. Confused. Overwhelmed. And if that's not enough, they add absolutely no nutrients. No fiber, vitamins, protein, minerals. Nothing to fuel your brain and body. Without those, it's tough to be an amazing leader that can make and wise decisions for your team.
Get decent sleep. Sleep regenerates you. Allows your body to heal. And rest. And calm down. All things that need to happen if you're going to be a good leader the next day. Otherwise, you're grumpy. And irritable. And punchy. And indecisive. Who wants someone like that for a leader?
Take breaks. Every couple of hours, give yourself (and your team) some space, even if it's just a few minutes. Stand up. Walk around. Listen to one of your favorite songs. Stretch three times.
Replenish with humor. Try to find something funny to watch or listen to. A TV show. A song. A YouTube video. A podcast. Research shows that laughter can turn things around. Alleviate stress. And fuel you with some needed energy.
This is just part one. Your physical health is vital to your success as a leader. Watch for additional posts on how to care for your mental and emotional health as well.  All three make up the trifecta that leaders need to perform at their absolute peak.
It can be tough at the top. But savvy leaders get that the better they care for themselves, the better able they are to take care of their teams – and their families at home. So, leader to leader … what's it going to be?
Want to learn more about being an extraordinary, stand-out leader? Get a copy of my eBook, Stand Out Leadership today or book me to energize and increase world-class results for your leadership team!