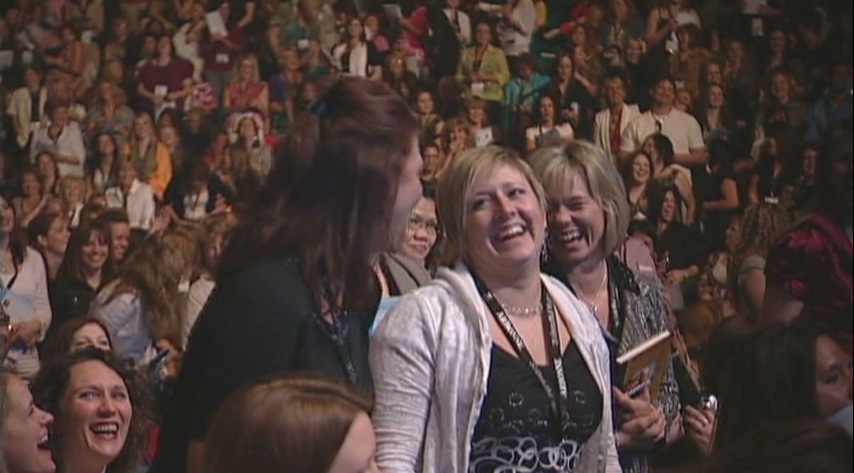 NOT the Speaker
By Motivational Keynote Speaker Connie Podesta
After more than 25 years in this industry, I'm fairly sure I've seen it ALL. Or at least ALMOST all there is to see in terms of types of speakers and what they bring to the "table" for the events at which they present. And like any profession, they run the gamut from the all right to the extraordinary. The down-to-earth to the drop-everything-for-me divas. The brand new to the seasoned professional. Here's what every one of them SHOULD know but many don't: it's not about THE SPEAKER. It should always, always, and one more for good measure – ALWAYS be about the audience.
Hopefully, if you're a speaker and you've been around the block a little like I have, or you've got a great mentor in this business you already know this. When we walk out on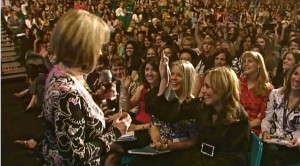 that stage, whether we are there to deliver a motivational message, a how-to strategy, an inspired reason to take action – or the emcee of the whole event – our job is to deliver what the audience needs. What will compel them to create positive change. What will move them to internalize what they've learned and use it to build stronger relationships. Or increase sales. Or shift their mindsets. Or work cohesively with their team mates. Or be better leaders. Or foster a creative culture in their organization. That's what it's all about. Engaging each person in the audience to the BEST of our ability, not the least.
Do we want the lights right? Or the stage set? Or the microphone to work? Or the seats a certain way? Sure, but as for me I want those things so that the AUDIENCE has the best possible experience. So they can see and hear and I can connect with them on a higher level. That's the motivation – or at least it should be. Not just because you're the speaker and it's about you. Here's the thing — I can tell you that speakers walk a fine line between having enough ego to get up there and present to a crowd of 10-10,000+ and having enough humility to keep that ego in check so that the audience is truly first and foremost. It's a delicate balance – when it goes wrong – you bet it goes REALLY wrong. I've seen speakers throw temper tantrums and spoiled fits. I've also seen speakers who truly are gifted at what they do and knock it out of the park every time because they put the audience before themselves.
Want a little more insight as to why this is SO important? Watch this video:

If you're a speaker, take this message to heart if you too want to hit it out of the park. This is just one of the things Ford Saeks and I will be sharing with speakers at our Kick Butt With Class event this December – a three day immersion workshop for speakers who truly want to make more, achieve more, and do more than they've ever dreamed possible. Learn more about it at www.kickbuttwithclass.com.