by Motivational Speaker Connie Podesta
Like most people I guess, I'm excited about the coming of a new year.  Clean slates, fresh starts, new opportunities and new people.  It's funny when you're someone like me –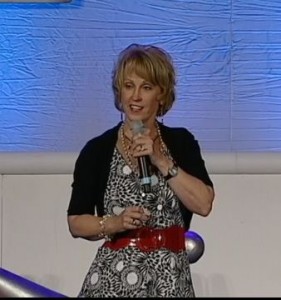 one of those NON-GOAL-SETTERS to see everyone already busy with resolution lists and goal charts.  Yeah, that's not me.  I'm more of a 'take the world as it comes' kind of gal, and I like it that way.  It gives me more freedom to roll with the punches, choose new paths, open new doors and see opportunities where I otherwise might not if I were focused solely on "the goals."
Plus, I just don't like the pressure.  You know?  That whole 'what if I fail' mindset that some people get when they are completely wrapped up in the "I've got to lose 10 pounds by June" type mentality.  With just weeks left in the year, I tell you what my "wish" is for all of you who have so patiently, consistently and wonderfully followed me throughout the years…
Take care of YOU.  It's really easy in today's world of stress and chaos to get caught up in the taking care of your family, your friends, your colleagues, your careers, your children, your social obligations, the neighborhood watch and a million other things.  More often than not, we forget to take care of ourselves and when that happens – how good can we really be to anyone else?
So we'll talk about hitting the New Year strong next week.  This week let's talk about what you can do for you.
Laugh more.  Laughter is an amazing healing agent.  It releases endorphins, lifts our spirits and even rubs off on those around us.  What makes you laugh out loud?  Funny movies?  Comedians?  Great books?  TV shows?  YouTube videos?  Your kids (now THEY can be funny!)?  Dinner with friends?  Lunch with someone you love?  Whatever it is – go ahead right now and start calendaring more of THAT into the days and months ahead.  You'll be healthier, happier (even more productive if you can believe it!) and more whole for it!
Commit to live healthier.  I've fessed up in the past about my clear and apparent weakness for Starbucks and the fact that I'm really not a fan of that whole exercise thing.  But the truth is we've got one body to take us through the rest of our lives so we might as well treat it right, fuel it with what it needs and heck, maybe even have a little fun while we're at it!  I did that this year with my new bike and helmet and fresh air and it is a great mini mental vacation to get out there and take a ride.  I'm not saying NEVER have a latte and I'm certainly never going to say a bad word about curling up on the couch with a great movie and some popcorn – just put that 'everything in moderation' thing into play.  (Try it – you might like it!)
Bid a fond farewell.  If you're like me you've had your fair share of Negative Neds and Debbie Downers in your life.  They can crush a good mood in a single comment-right?  Nope, put on your super hero cape and kick those personalities to the curb.  You've got big fish to fry next year – and that's tough to do when you've got sad sacks weighing you down.  Let go – and give yourself room to grow!
Oh – and for all my GOAL SETTING friends – have a great time.  This is your time of year to shine and be filled with passion about what you want to accomplish in the year ahead.  No discounting that goal setting works great for millions so have fun with it.  And think big – then bigger!  Don't underestimate yourself or limit your abilities —  you've got this!


And lastly, let's have some FUN next year.  I have to say, I've had a great time with all of you on Facebook and Twitter this year.  Hearing your stories, reading your comments, having a great time and sharing with each other.   Let's do more of that-what do you say?  I'll be right there for the chatting – so tune in and let's have a blast!  If you're in – I am!  See you there!