by Motivational Speaker Connie Podesta
One of the topics I'm asked to talk about most these days is CHANGE. How to manage it, cope with it and more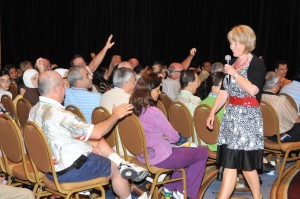 importantly leverage it in a world that's spinning faster than is comfortable for most. That's why I wanted to reach out to some of my wonderful friends and share a few secrets I've learned along the way with their readers. After all – we're all in this together right? Why not help each other out?
All right – if you're ready, let's get down to it…
Let's face it — Business as usual IS over. The game has changed and the rules are different. Creativity has taken the place of complacency and resilience has kicked status quo to the curb. And refusing to "get with the program" is a deal breaker.
I ask my audiences "Are you prepared, mentally and physically, to compete and win in an environment where even instant gratification takes too long? Are you prepared to meet the challenges of a world that demands more, expects more, and pushes back harder than ever before? Do you have the vision, energy, ambition and intuitiveness to not only deal with change, but use it to your advantage to become more successful?" If not, then the time is now to turn those things around because change is no longer a choice – it is very much a reality.
To succeed in our world, you'll need a winning combination of skills, talent, attitude, dedication and commitment to survive and THRIVE in the work environment today. Listen, I know it's scary for a lot of people. Every day you wake up to new challenges and new choices. It can be exhausting and overwhelming. Heck, look at all the recent changes on Facebook that sent everyone into a tailspin. As a change speaker my goal is to alleviate those emotions of fear and replace them with a feeling of "I can do this!" I teach people how to TAKE ACTION in a positive way rather than simply REACTING to each and every change that comes their way.
You know, CHANGE IS IN OUR DNA. It's not new. We didn't live in a static world for thousands of years and then all of a sudden CHANGE started to show up to make our lives miserable. Our ancestors faced tremendous, life-threatening change. They crossed oceans and braved new worlds and did it with little to no resources and less opportunities to communicate than we ever have. (Heck-they didn't even have internet – or heaven forbid –FACEBOOK!) Trust me – if they could do it so can you!
You have two choices when it comes to change:
1. RESIST IT. Sure, you can play it safe. Close yourself off and remain content with the status quo. Just sit back and act like this is all a phase, gripe and complain, and spend your time worrying and hoping the world finally comes to its senses. (But do you think that's going to help?)
2. Or…TAKE ACTION. You can choose to meet the world head on. Create new ideas and learn something from every person you meet. You can take advantage of the fact that there is no greater time in our history to adapt to change. We now can learn 24 hours a day, seven days a week via the internet. We can watch video, download ebooks, listen to the voices of masters via podcast right in our own homes. We can download the information and take it with us in the car, on a plane or as we go for a walk. That's powerful for those who choose to take advantage of it.
I challenge you to take action. To adopt the changes that come your way and see them for the opportunities that they are. Amazing things can happen when you do.
To learn more – check out these two videos that I've posted…
I hope you like them. Thank you for the opportunity to share some tips and techniques with your readers! Like you, I'm committed to lifelong learning and sharing that valuable information with people just like you! Learn more about growing your business, leveraging your leadership skills and staying motivated in a changing and challenging world by visiting me online at www.conniepodesta.com.