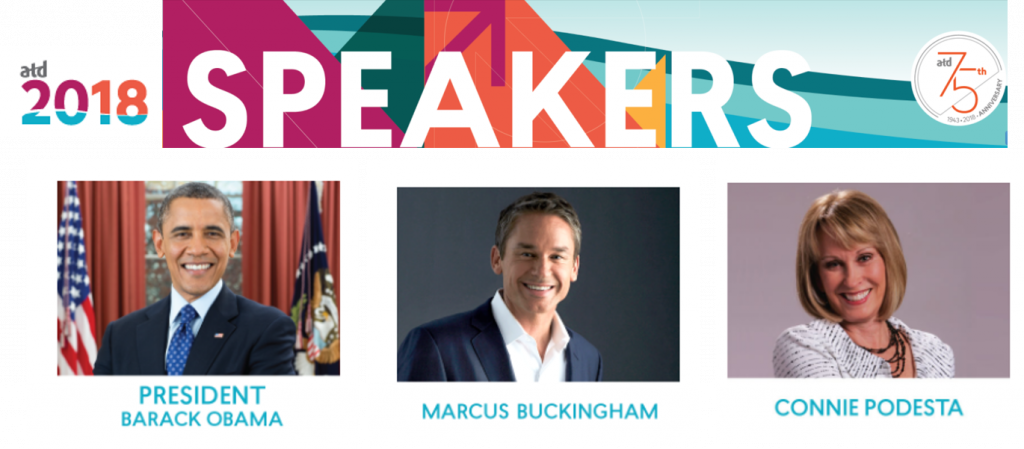 San Diego, CA: May 10, 2018: The ATD International Conference & Exposition boasted record attendance as headliners Barack Obama, Marcus Buckingham, and Closing Keynoter Connie Podesta delivered timely topics and cutting-edge strategies from the start of the 4-day conference to the closing session.
The conference hosted more than 10,000 registrants who attended 300+ sessions, for more over 14 hours of education.
Connie Podesta, MS, CPAE, CSP shared one of her most requested topics, Life Would Be Easy if it Weren't for Other People, pulled from her acclaimed book of the same title. It is a deep dive into why people do what they do and say what they say. This keynote is based on personality profiles and science-based research. Ms. Podesta, a former therapist, and expert in human behavior bridged gender and age gaps, the power and necessity of adopting transformational change, building consensus within teams, and even gave audience members a surprising inside perspective on how their own personalities help or hinder them in both personal and professional relationships.
"It was an honor to take the stage for this important annual event. The conference team at ATD was just phenomenal. They created an environment where everyone was ready, willing, able, and excited to learn at exceptional levels.," shared Connie Podesta. "It was truly one of the most engaging audiences I've ever spoken to and delighted to have ATD as a valued client. Kudos to everyone who helped to make this event the tremendous success that it was!"
About ATD
The Association for Talent Development (ATD) is a professional membership organization supporting those who develop the knowledge and skills of employees in organizations around the world. Members are professionals who help others achieve their full potential by improving their knowledge, skills, and abilities in the workplace. ATD's members come from more than 120 countries and work in organizations of all sizes and in all industry sectors.The ATD International Conference & Exposition is the largest event for talent development professionals worldwide.
To learn more visit www.td.org.
About CONNIE PODESTA
25 years.Two million people. 1000 organizations. Hall of Fame speaker. Award-winning author. Seven books. Former Radio/TV personality. Comedienne. Human Relations Expert. Therapist for 30 years. Topics on sales, leadership, change, life balance and success. And (what we all probably could use now and then)…a Comedienne.
To learn more visit www.ConniePodesta.com.
Contact: Julie Escobar
Connie Podesta Presents, LLC
3308 Preston Road, Ste. 350-119
Plano, TX 75093