Redefining the Good Things in Life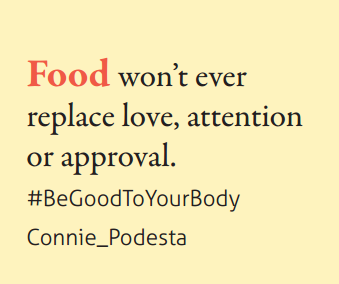 By Motivational Keynote Speaker Connie Podesta
Every piece of research shows that HAPPINESS can absolutely have a positive effect on your health in zillions of ways. Every organ in your body thrives on HAPPINESS. It allows you to be calmer, sleep better, eat healthier, exercise more, and make better choices all around when it comes to YOUR life.
UNHAPPINESS does the exact opposite. It attracts illness; lowers your immune system so you can't resist disease; stockpiles nature's all-natural, good-feeling chemicals, such as endorphins, instead of releasing them into your system; and it depresses your body's ability to create antibodies. Wow! For starters, UNHAPPINESS can't get to sleep. Too much to worry about, gripe about, complain about.
UNHAPPINESS eats junk and justifies every mouthful. I deserve it. I need it. Bad day, so let's eat. Good day, so let's celebrate. Food won't ever replace love, attention or approval. UNHAPPINESS loves the 3S's: sugar, starch, and soda. Why? Because they feel so good—temporarily. That sugar high makes everything seem alright, until a few hours later, when zap! Down you go again. These 3 S's are killers—literally. They will add weight, zap your creativity, and make you irritable and grumpy, and fill you up with wasted calories. When you eat empty calories, your body has to work overtime to compensate, and it doesn't even get any fuel or nutrients such as vitamins or minerals in return. How fair is that? The next time you eat junk, at least apologize to your body.
UNHAPPINESS also hates exercise. It's too tired from all the junk food. Too busy. Too sad. Too worried. Too little love for your own body. Sound like it's time for a healthy change of pace? Ready to try HAPPINESS instead? Give your body what it needs. Walk. Move. Stretch. Eat well. Eat food full of vitamins and nutrients. Sleep. HAPPINESS thrives on taking care of YOU: your body, your heart, and your health. Now that is a friend to have on your side.
Want to learn more about inviting HAPPINESS into your life and leaving all that toxic stuff behind? Read the first chapter of my Redefining Happiness eBook on me! It's filled with ideas and insights for finding the joy and ditching the drama in your life!