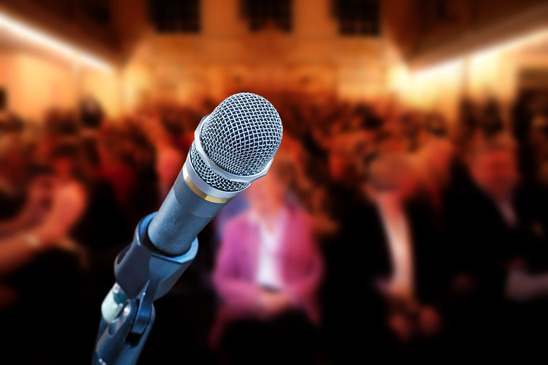 Learn the Top Ten Traits to Look For With Industry Thought Leader Connie Podesta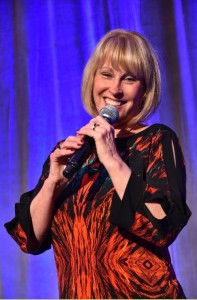 By Julie Escobar, Syndicated Columnist
This is it. Crunch time. You've got an event on the horizon and you've been challenged to make sure it's the best attended, most results-producing, high-impact, high-added value gathering your organization or client has ever seen. No pressure – right? I've been there – those are big shoes to fill! To help you work smarter (not harder) and make the best possible decision – I've tapped into one of the best, most sought-after motivational speakers I know – Connie Podesta – for some straight answers and the top ten things to look for when choosing the right motivational speaker for your event.
Here's what we came up with…
Julie: Connie, you have been a motivational keynote speaker for more than 25 years. So, having worked with hundreds of event planners, you get more than most that these folks have a lot on their plate these days. Many head selection committees are charged with the big responsibility of picking the perfect speaker who can meet their goals, deliver a powerful message, provides inspiration and of course, connect with their audience. What are some traits leaders can look for when choosing their speaker?
Connie: Good question. In my experience, every great conference has a wonderful blend of outstanding speakers – both from inside and outside their own industry. The "outside" speakers bring a totally unique perspective to the meeting. They can also be a great resource for entertainment, added value and a well-needed dose of inspiration for an audience that is looking to "close the gap" between where they are now and where they need to be to achieve the RESULTS they want and deserve.
Sometimes it's a little scary to try to determine who can deliver what in terms of substance, style, and unique, original content that you're looking for. Often organizations are worried that a "motivational speaker" will just provide "fluff" in a time where people are stressed, overwhelmed, concerned about the future, and trying to balance home and career. Nothing is further from the truth when you hire the RIGHT person. Great motivational speakers aren't content just "inspiring" an audience—they want to use their ability to motivate people as a tool to deliver outstanding content and strategies that will help people tackle even the toughest issues they are facing today.
Personally, I want my audiences to take ACTION and make CHANGES that will help them: Keep their competitive edge. Manage on-going change. Increase sales, productivity and profitability. Sustain quality relationships. Maintain a positive attitude. Be happier and healthier. And achieve outstanding results in both their personal and professional lives. In other words–the opposite of "fluff"—audiences need a catalyst for CHANGE and TRANSFORMATION.
Julie: That's great insight Connie. I think ACTION and CHANGE are certainly key components for organizations right now. Just as you say, "business as usual is over," companies are trying to find ways to meet the challenge of a new economy, new breed of customer, new ways to communicate, lead, sell, produce and more. So the big question is: What should event planners look for when making their decision to find the right speaker to motivate as well as challenge and provide solutions for some of the tough issues that organizations are facing?
Connie: I believe that there are ten traits an event planner should look for when choosing the right speaker with the right message for their conference or meeting. And the greatest motivational speakers live and breathe all ten of these which are:
1. RESULTS-ORIENTED: The most powerful kind of motivational speaker is the one who is interested in motivating your group to take action that leads to increased RESULTS. Be mindful of the speaker whose message is simply a "rah-rah-dream-your-dream" story. While it's a terrific accomplishment to climb a mountain, win a gold medal or overcome personal tragedy – the deeper message should be so much more about the audience than the speaker. The speaker's job is to be the catalyst to help your audience create their OWN story, (not the speaker's story,) so they can achieve what they want and deserve in life.
Ask a potential speaker: How will your message inspire our audience to achieve more, do more, experience more and live life more fully as a result of hearing your message? Is your story simply about you and your accomplishments or does it address real-life issues that our audience members face every day in both their personal and professional lives and provide real-life solutions?
2. VALUE-ADD: You know – speaking is the easy part for most of us. It's what we do and for a lot of us – who we are. The real key to hiring a "keynote worthy" speaker is making sure there is some excellent substance beyond just the talk. Are they offering take-aways that can help create lasting-change? Are they working with leadership to ensure there are "after the event" strategies that can keep the momentum going long after the lights and microphone are turned off?
Ask a potential speaker: What other talents do you bring to the stage besides the ability to deliver a great message? What can you offer that can help our leadership, team members and staff keep the motivation, skills and strategies alive long after your presentation is over?
3. IT'S ALL IN THE DELIVERY. An unforgettable speaker seldom relies on a slide show or power point presentation to deliver a great message. THEY realize that they themselves are a powerful visual. The audience connects to their message – and to them. Today's audience is different. Say what you want – social media has made us an instant gratification society in a lot of ways. We don't want to be glued to slide after slide – instead audiences want to interact, participate, have a full-court experience and connect with not only the speaker at the front of the room, but also network with the audience around them.
Ask a potential speaker: Describe your delivery style? What makes you unique and memorable? How will you connect with my audience? Are you committed to a slide presentation or comfortable interacting with the people in front of you for an all-in participatory event?
4. Flexibility is the Name of the Game. More than just delivery style – there are two very different kinds of motivational/keynote speakers. Those that give 70 presentations a year, each unique in its own way, and those who give the same presentation 70 times. Find the speaker who can't even imagine having a canned presentation – one, because it does a disservice to the audience, two, because it wouldn't be current and relevant to life at the moment, and three, because it's not as much fun. Great speakers do not fall back on out-dated notions or the traditional "six ways" or "ten steps" to success. Instead they draw from current experiences and challenge their audiences to be innovative and let go of the past. They can easily add information, stories, and examples, even at the last minute, so they can give their audience the most updated information possible.
Ask a potential speaker: How will you involve our audience? How current is your information? How flexible are you about changing you presentation, even at the last moment, if something interesting or important changes in our industry right before you speak.
5. Leave The Ego at the Door. Don't look twice at the speaker who doesn't understand and recognize that the true STAR of the show is the audience—not them. Speaking is a 'service" job—it is about providing outstanding service to an audience who is there to learn and grow. The speaker is simply a conduit to initiate that change. Great speakers are far more concerned with meeting the needs of your audience than with their accommodations, lighting or seating. Look for a speaker who is as easy to work with off stage as on. They'll be open and honest right from the start and willing to share the terrific techniques they have for moving your team or audience to the next level. They'll be excited to deliver value-add rather than "what's-in-it-for-me." And you can tell it in the first 10 minutes you talk to them!
Ask a potential speaker: What part does our audience play in your presentation? How can you incorporate our values, message, culture and goals into your talk? What's important to you in delivering this speech? (Then watch for clues that will tell you right from the beginning that this is a high-maintenance speaker that will stress you out long before the event even starts.)
6. Homework 101. Ahhh…here's to the differentiator! Want a great presenter? Look for the one that does their homework. They're not relying on 10 year old topics, memorized speeches or their own story of tragedy or success from rote memory. They aren't so caught up in their own theories that they aren't interested in your theme, goals and vision for the event. Their presentation depends on your input right from the beginning. They make it clear from the onset that they want to learn about you, your company, the audience, the culture, the message you want to get across and the must-have components that mean the most to you. Their aim is to PLEASE you and the audience—to deliver what YOU want and need your audience to know and learn. Then they weave all of the above into a message where you r audience will say "that speaker must have been in my life—they know everything about what I do and how I think." Then they will deliver an experience that is fresh for your group, vital to your success, timely for your market and customized for your organization
Ask a potential speaker: What do you already know of our group? What type of homework will you do before the event? How much of your presentation will be unique to our specific audience? How many conference calls do you need to effectively tie our theme, goals and vision into your presentation?
7. "Walks the Talk:" Ask around. Is the motivational speaker you're considering walking the walk? I mean – there is terrific talent out there, but are they 'practicing what they preach' if you will? Are they modeling the behaviors they talk about on stage? Are they consummate professionals? Do they deliver outstanding customer service? Do they work as a team with the meeting and event planners? Are they are positive and encouraging, both on stage and off and do they speak from experience? Are you confident that they will represent you and your organization in the most professional way? Integrity, character, honesty and intent are powerful motivators that great speakers use as tools for modeling outstanding character. It takes a long while to build that kind of trust and reputation – and it's important for the organizations to hire speakers that can deliver the goods through their actions, attitudes and presentations.
Ask a potential speaker: Tell me about yourself. How will our audience know that everything you say on stage is integrated into your own daily life? Do you have references who can speak to your intent, integrity and delivery style? If so – who? (Then follow up!)
8. Entertainment. Don't ever underestimate the power of entertainment in today's world! If you're hiring a speaker – make sure they can entertain as well as educate. Entertain as well as motivate. Entertain as well as teach skills. Why? Because my research shows that without a doubt, if you want people to drop their guard enough to learn, lighten up enough to open their minds and let go enough to adapt new ideas – you've got to first entertain them. And I don't just mean they have to be a comedienne. We're talking contagious humor, persuasive passion, interactive communication, edge-of-their-seat involvement. Variety. Passion. And fearless energy. If your speaker can deliver that – you're on the right track.
Ask a potential speaker: How do you bring a high level of energy and passion to the stage? Tell me how you will mesmerize our audience so they will be on the edge of their seats listening to every word? Will they laugh? Why do you feel humor is important if you want an audience to learn and grow? (Most importantly, listen to the speaker on the phone. Are you excited even during the call? Can you hear their passion and energy? Or do they sound serious, businesslike and rather formal? Trust your gut on this one.)
9. Accessibility. This is an interesting one. Many event planners have almost resigned themselves to working with a speaker's staff more than the speaker themselves. NO WAY! At least not with the kind of speaker you and your audience deserve. Look – the speaker is working for you and your voice, ideas, opinion matter most. Its fine to finalize details, calendars and cars with staff – but in terms of what will be delivered to your audience – communication between you and your speaker is crucial. I know I get back to all of my event planners within a few hours. If they're not willing to speak with you one-on-one – they're probably not the professional you need them to be. And when you ARE talking to them – make sure they are listening at LEAST as much as they are talking. They should be willing to share helpful ideas that can make your entire event more successful and be willing to help with the theme, meeting flow, or even suggest other speakers that can complement your event. In other words, they are a consultant as well as a speaker.
Ask a potential speaker: If I want to speak with you, can I reach you directly? If not, will your staff get you a message so we can talk as soon as possible if I have questions? Can you assure me that we will have plenty of opportunity to speak together personally so we can work as a team to make this event a total success? How can you effectively weave what's important to ME and my audience into YOUR time on stage?
10. Long-Term vs. Short Term Results: Some speakers are just fine doing their 60-90 minutes and then racing to the airport. Job done-right? No way! Great speakers want to come early and stay late so they can get to know the audience and be available to answer questions. They want you to see them as a long-term resource rather than a one-time speaker. They are committed to entertaining, motivating and enticing your audience to change for the better during their time on stage – but they certainly don't want it to end there. I know for me- it's about helping clients find that balance. It's about residual effects. It's about the wow-factor of seeing team members take a message and then help them transform it, transport it to other team members and carry it throughout an organization. That trickle down affect is amazing. To me it's so exciting to be a part of that moment when that love of learning and thirst for change becomes contagious. That's the long term commitment. Whatever we can do to keep that spark of learning and loving what they do alive – be it emails, social media, teleconferences, videos, articles – whatever –we're in. It should be the same for anyone you hire.
Ask a potential speaker: What are your take-aways? What can we do in the next 15, 30, 45, 90 days to keep the message alive long after you leave the stage? What resources can you give us that can help us continue to help them grow and learn? What's your success plan to help us achieve long-term results?
Julie: Wow! Talk about a great top ten! You've given people a lot to think about and I know that you are definitely a speaker who has a reputation of "walking the walk" as you say. Thanks for sharing your success strategies with us. You've given event planners and leadership members alike tremendous insights in terms of hiring the right person for the job. What I love about you is that audiences not only give you standing ovations – but they are first in line to thank the people and organizations that bring you in. You know, in one of your videos you said, "It takes courage to be successful." It does these days. You've got to go the extra mile, do your homework and make the right decisions. Great stuff.
Here's a great video from Connie:

---

Connie Podesta is a top-rated professional motivational speaker, executive career/life coach and ONE OF THE INDUSTRY'S LEADING EXPERTS in sales strategies, leadership development, relationships, and change. Using her talents as an author, board certified therapist, comedienne and TV/radio personality; Connie delivers customized high-energy presentations that creatively combine laugh-out-loud humor and compelling insight with real-world strategies and solutions.   Her laugh out humor coupled with the extraordinary ability to help organizations and business professionals "close the gap" between where they are now and where they want to be has earned her fans around the globe.  To learn more about Connie and what she can do for your team visit her site www.conniepodesta.com or find her on Facebook at www.facebook.com/Connie.Speaks — she's fun to follow!
Julie Escobar is syndicated columnist who's been in and around speaking and training industries for more than 25 years.  With a passion for helping sales professionals, entrepreneurs and organizations build their business, maintain their motivation and realize their goals, you'll find her always on the lookout for new solutions, strategies and techniques that can make jobs easier and life better.  You can find Julie on Facebook at www.facebook.com/JulieEscobar.