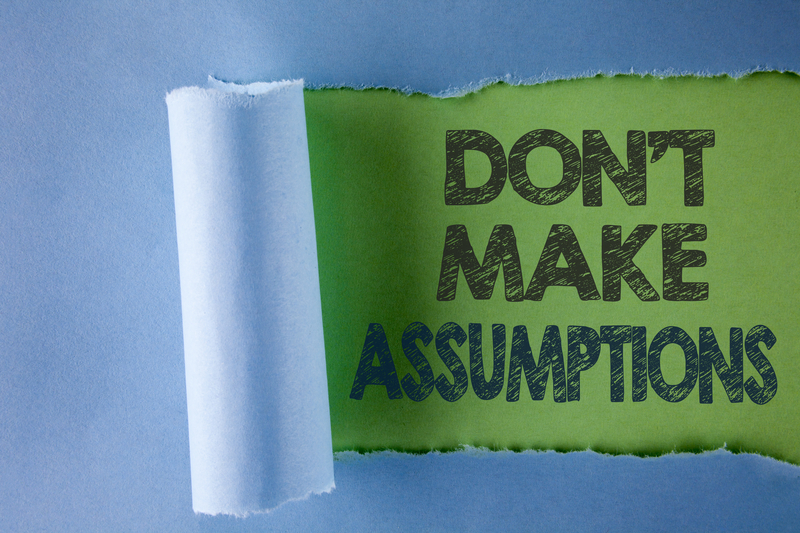 By Sales Keynote Speaker Connie Podesta
You know the old saying about making assumptions – right? I won't repeat it here, but let's just say it doesn't work out well for the person making them.
In today's world – assuming you know it all–can always read the room, the person, or the buyer – is doing you, and your sales, a disservice.
I'll give you a great example. I went to purchase a car for myself, and I brought my husband along. I knew what I wanted, and I was looking at the vehicles that had features that were most important to me when along comes the salesman. What does he do? Doesn't even glance at me and makes a beeline for my husband and with a firm handshake and direct eye contact asks him, "So, what's it going to take to get you into this car today?" My husband smiled a knowing smile, pointed at me and said, "This car is for her and I'm not sure there is ANYTHING you could do now to get HER into a car now."
To the salesperson's credit, he realized the potential cost of his assumption immediately and went into overdrive to make it right. But you can see how an assumption could have EASILY cost him a sale from the start, right?
I wrote a book, How to Make a Fortune Selling to Women. It's 187 pages of strategies for salespeople that debunk old sales methods, mindsets, and tactics for selling to women in today's world. (The flip side of the book is How to Make a Fortune Selling to Men. Way fewer pages because men, as a rule, are much more straightforward when it comes to what they want and what they don't in a sales process.)
Why? Because women are buying things they didn't use to buy. They're investors. World leaders. Running Fortune 500 companies. Flying airplanes. Driving tractors. Running empires. In other words – they can do, or buy, whatever they want.
So how do you sell to them? To ANYONE?  You LISTEN to them. You stop assuming and start asking the right questions. You disconnect from what YOU want or think or believe about the person — and connect with what THEY want so you can help them find it and close the deal.
When salespeople learn to QUIT selling based on what someone looks like, the clothes they wear, color of their skin, gender, or the assumption of wealth or lack of it – but instead on the ability to listen well and discern what a buyer wants and needs — that's when sales go up right alongside credibility. That's when respect is earned – and referrals will follow.
Bottom line? Quit assuming and start REALLY listening. People will tell you everything you need to know if you give them the chance.

To learn more about this topic, check out my short video above, Quit Making Assumptions, which is part of my series called Top 10 Things You Need to Quit to Be a Better Salesperson. Click here to check out my YouTube channel.  And if I can help your team to master this important lesson, please give me a call!