Introducing An Amazing Series on How to Become the Best YOU!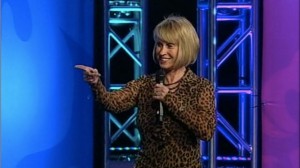 By Organizational Therapist, Executive Coach, and Motivational Speaker Connie Podesta
Let's face it – becoming the best possible you is a TALL order.  As a speaker, therapist, counselor, coach and friend – there's not much I haven't seen in this wide, sometimes wonderful, often times chaotic world we live in.  For thirty years I have observed, educated, trained, counseled, interviewed, influenced, been influenced by, learn from and listened to more than two million people…and unfortunately, the majority of those people tell me one thing:  they are frustrated, confused and overwhelmed—with their life, their jobs, and themselves. For so many reasons, they can't quite seem to pull it all together and achieve the combination of happiness, success, physical health, financial security, or quality relationships they desperately want.
I'm always asked, "Connie, how can I get BETTER?"  They want to be a better parent.   Leader.  Partner.   Salesperson.   Family.   Friend.  Different answers to different questions of course.  One thing most of you already know about me is that I love a great challenge—especially as it applies to the relationships in our lives.  Thankfully I have that intuitive ability to see a problem and turn it over, around and sometimes inside out and to help my clients find the solution.  And do you know what has become crystal clear to me more times than not?  Get ready!  This is NOT going to be the answer you are expecting.  Most of the time — my best advice to most of you is to QUIT!  You heard me.  STOP!  Too often, we are own worst critics, advisers, support-  system and objective observer of our own life.  Now believe me, when I say QUIT I don't mean to give up just because something is uncomfortable, difficult, worrisome, scary or frustrating.   But rather I mean QUIT the behaviors, mindsets, habits and patterns that lock you into all that "STUFF" that is keeping you from being everything you want and more.  In other words, QUIT getting in your own way.
Ahhh….easier said than done-huh?  I know.  I've seen a lot of people struggle to gain a foothold in one area, only to find it was at the expense of another. And although I have certainly met and counseled those people who seem to not want to take responsibility for their own happiness, even to the point of sabotaging possible roads leading in that direction (another day, another book)…I truly believe MOST people (prove me right here, ok?) are eager, some even desperate to do what it takes to have a better, less stressful, more content and healthy life. They just don't seem to know where to begin.  That's where sometimes (much of the time in fact) the beginning really starts with an ending.
So here's what I'm doing.  Over the next few weeks I will be writing about this very subject.  In fact, I have discovered there are TWENTY things that most of us need to QUIT NOW if we want to live the life we want, need, and deserve!    As usual, I will be blunt, but right on target.  I'm going to kick a little butt—but with lots of love!  Sound good to you?  Some of these twenty things may apply to you (if you are honest enough to take a close, hard look at yourself)—and others won't but you will know someone in your life that desperately needs this information—and you can pass it along.  I'm going to dive in and challenge you to join me right here in the thick of things as we explore and discover the top twenty things you can do to QUIT GETTING IN YOUR OWN WAY and get down to the heart of how to become the best YOU ever.
This I know:  We are about to embark on a journey of self-discovery.  As I was delving into each of these topics, I had some major "Ah-Ha" moments myself.  I discovered a few areas that I still need to work on, think about, own up to and let go of.  So I will be working on some of these right alongside you.  We're going to laugh a little through this, we might even cry a little through this (not you guys of course!) – but if you'll stick with me — I promise we're going to learn a LOT in the process.  It's going to be SO worth it.  You're SO worth it. So if you're in – let's get to it – shall we?
Sign up for the blog or bookmark us here – and stay on top of everything we'll be learning to QUIT in the coming weeks!  Also, be sure to hang out with us on Facebook & Twitter where we're having a blast sharing ideas and insights every day!  We'd love to make you part of the conversation!