A Note from

Leadership Keynote 

S

peaker Connie Podesta…
This really is the time for leadership teams to step up to Out-Shine, Out-Smart and Out-Plan their competition isn't it?  Today's teams need someone strong at the helm to empower them to become their personal best, share their ideas and insights and help to bring everyone together to raise the bar organization wide.
The leadership of old?  The kind that is territorial?  "My way or the highway?"  Yeah – that's not going to cut it anymore.  Today's leaders are inclusive.  Empowering.  Engaging.   Able to adopt and leverage change.  Sound like you?
I encourage you to dive in, absorb it all and bookmark this page as a resource you can count on as you're leading teams, growing organizations and leveraging change like you've never done before!
Be sure to connect with me daily too via my Facebook page or on Twitter — it's a fun way to get a daily dose of humor, how-to's and sometimes even an eye-opening topic or two! Follow me at www.facebook.com/Connie.Speaks — or www.twitter.com/Connie_Podesta – I can't wait to see you there!
Wishing you every success!
Warmly,
Connie
Watch the Videos:
Top Three Leadership Styles (And Which Ones Work)

Life Would Be Easy If It Weren't For Other People
10 Ways to Standout From the Crowd
How to Fire Someone And Never Feel Guilty Again!

Stop Setting Goals and Start Living Life!
Downloads: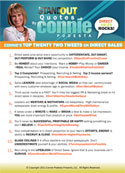 Top 22 Tweets for FEARLESS LeadershipDownload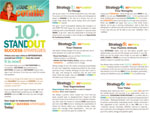 10 Standout Success StrategiesDownload