Motivational Speaker Connie Podesta on
REAL

ESTATE

…

WOW! This has been an "interesting" couple of years to say the least in the real estate industry. What's cool is that wherever you find CHALLENGES & OBSTACLES – you'll ALWAYS find GREAT OPPORTUNITIES & that's the kind of vision and skill building we're bringing to real estate professionals from coast-to-coast.

In today's market – STANDING OUT means STANDING UP for smart business strategies, effective how-tos for pricing properties right (the first time!), building strong skills and leveraging long-term customer relationships.

To more than just SURVIVE in today's market roller coaster — learn the tools to THRIVE and compete — smarter – faster and with a whole lot more fun!

Get your copy of my fun & TOTALLY Tweetable Top Twenty-Two Tweets on Ten Hot Topics & Top Twenty-THREE Tweets on Real Estate Today!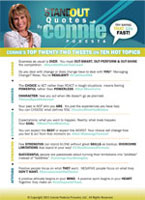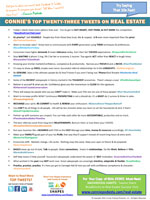 These terrific little messages make great posts for all your social media platforms! From change & choices to strengths & leadership & more – they're great for helping spread STANDOUT positive messages to your circle of friends, clients and family!
Also, get your copy of…
HAZARDOUS HABITS: Six Silent Roadblocks to Real Estate Success Written with my good friend and real estate expert Julie Escobar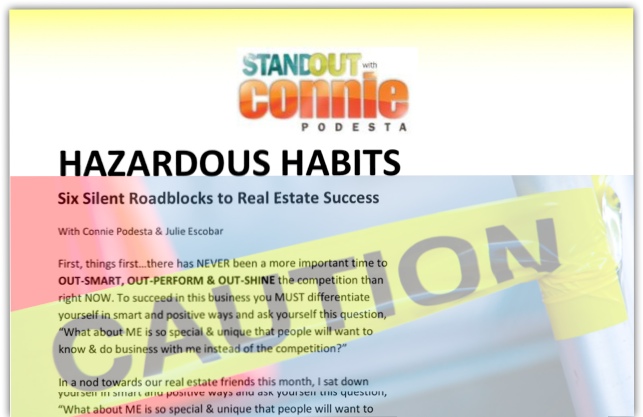 It's a fun, conversational collaboration spotlighting six of the top things agents do most to "get in their own way" of success and how to start practicing SMART habits that will help lead you to your goals.
So get started today! Just share with us your name & email and we'll email all this good stuff right over to you! (And we promise—NO SPAM!) We respect you and your inbox too much for that!