Connie the Sales Speaker…
As a keynote sales speaker – there's one thing for sure in today's world:  Business as usual?  Definitely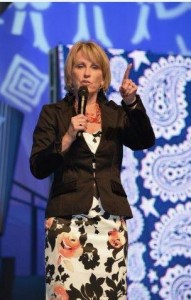 OVER.  Today's sales professionals have to be more savvy, more confident, better able to read people, more capable of communicating – in every way it takes – with clients, customers and team members.
Look, we're all in sales – and we're all in the business of people.  It's more important now than it's ever been to connect, to build powerful, long-lasting relationships and to bring our best selves to the table.
Higher production?  Increased sales?  Stronger teams?  More customers?  It all starts with the right mindset, the right skills, the ability to adapt and the willingness to create positive change in careers, in companies and in life.
We got this.  As your sales speaker, I will deliver a message – and the methods – to help your team expand their thinking, fine-tune their skills, leverage their strengths – and skyrocket your bottom line.  And you know what?  We'll have fun while we're at it!
I'll make them laugh – AND learn.  I'll teach them how to be a better closer, a better listener, a better advocate for their customers and how to increase their referrals like they never have before.
Ready to do all that?
As a sales keynote speaker, my most popular sales topic is…
SALES…
LIKE YOU'VE NEVER HEARD IT BEFORE!
The Power of Persuasion, Passion and Personality
Think you've heard everything there is to know about SALES? Then make way for some game-changing, money-making, customer-attracting ideas that will literally blow the roof off "sales done the old way." Connie Podesta, an expert in the psychology of human behavior and sales strategies has helped millions of people take sales to a whole new level…and have more fun while getting there. First step– no more excuses. If you believe that PRICE, PRODUCT, MARKETING or TERRITORY are the main reasons for not closing the deal, think again. Customers tell a different story. Connie takes you right smack inside the mind of today's new breed of customer. Bargain-hunting. Demanding. Indecisive. Internet savvy. Overwhelmed with choices. And, very SELECTIVE about WHO they CHOOSE to do business with. With her tell-it-like-it-is delivery and laugh-out-loud humor, Connie is ready to help you sell like never before so you can sit back and watch both your business and your bank account grow and GROW!
Let's blow the roof off your sales charts this year!  Call me today.  I can help!